LOGIN mit Benutzerkonto
Bitte geben Sie Ihre E-Mail-Adresse und Ihr Passwort ein.
Do you have a user account?
If you would like to use our online counter, it is best to set up a user account. It makes your job easier and gives you an overview of your online businesses.
Create user account
Contact details
City Hall Zug
Gubelstrasse 22
Post office box
6301 Zug
Opening hours city hall:
Monday to Friday
08.00 - 12.00 / 13.30 - 17.00
Content
Inhalt
Practical information
Emergencies
In case of emergency, these numbers are important to remember:
| | |
| --- | --- |
| Police emergency call | 117 |
| Fire department emergency call | 118 |
| Ambulance emergency call | 144 |
| Poisoning emergencies | 145 |
| Rescue by helicopter Rega/Air Glacier | 1413/1415 |
| Emergency road service | 140 |
| The Helping Hand | 143 |
| Telephone support for the young | 147 |
| Doctor on Duty | +41 (0)41 211 14 14 |

Everyone should memorize the first three numbers. The essential information required when reporting an accident is the exact location and street address and the type of accident. If the location is difficult to find, someone should meet the police or ambulance at a nearby landmark and guide them to the accident scene. If you or a family member feels sick and your usual doctor is not on duty, his answering machine will give you an alternative. You can also call the Doctor on Duty: Tel. +41 (0)41 211 14 14, a 24-hours central telephone service that provides information and advice. If necessary, they can immediately locate doctors, dentists and pharmacies on call at the moment.
Emergency meeting point
If you need assistance in the event of an incident, the emergency meeting point is your first port of call. Here you will receive information about the current situation and can find help.
In the event of a prolonged power failure, you will receive support at the emergency meeting points. Emergency calls can also be made at these meeting points.
The emergency meeting points are in operation 24 hours a day in the event of an incident.
The meeting points are located in:
1 Oberwil Schulhaus, Artherstrasse 101
2 Zugerberg Feuerwehr Depot, Vordergeissboden 2
3 Stadt Zug Schulhaus Burgbach, St.-Oswalds-Gasse 3
4 Stadt Zug Schulhaus Loreto, Turnhalle Löberenstrasse 40
5 Stadt Zug Schulhaus Guthirt, Mattenstrasse 2
6 Stadt Zug Musikschule Neustadt, Bundesstrasse 2
7 Stadt Zug Schulhaus Herti, St.-Johannes-Strasse 36
8 Stadt Zug Schulhaus Riedmatt, Riedmatt 41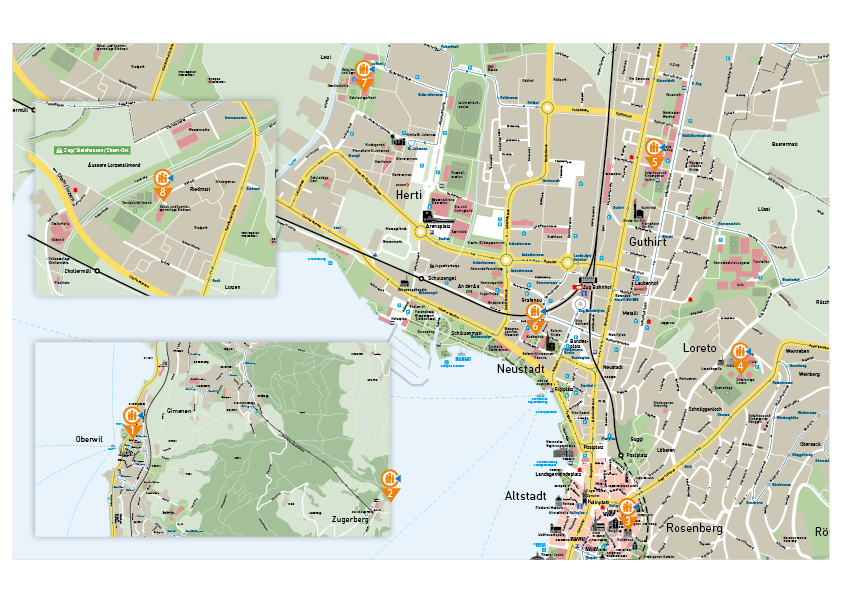 Postal service
The Swiss Post nowadays provides a wide variety of services, only some of which can be described here. You can check the services and prices in English on the website of the Swiss Post given at the end of this section.

Opening hours
You will find several post offices in the city of Zug. Their opening hours vary – smaller offices close between 12.00 and 13.45 hrs., and in shopping malls the opening hours of the mall are followed. The main post office in Zug is open as followed:

Monday to Friday 7:30 am to 6:30 pm
Saturday 8:00 am to 4:00 pm
Sunday closed

Letters which already have a stamp on them can be placed in one of the yellow letterboxes. For postal services, a distinction is drawn between "A-Post" (first class), which should arrive on the next working day, and the cheaper "B-Post" (second class), which can take 2-3 working days to arrive within Switzerland.

Die Schweizerische Post (= The Swiss Post)
Metallstrasse 9, Laubenhof
6300 Zug
Tel. +41 (0)848 888 888
www.post.ch


Swiss bank accounts
Once you have obtained your residence permit, it is quite easy to open a personal (non-business) account in Switzerland. Some banks may require a minimal deposit when you open the account. There are practically no restrictions on deposits, but some types of account that offer higher interest rates have restrictions on withdrawals. Each bank offers a wide variety of accounts and services – ask for full information. You will find that practically all tellers and clerks speak English. All banks, whether local or global, offer similar services and interest rates. The difference might be most noticeable in the quality of the service.


Shopping
Zug's main shopping area is located in the heart of the city, inside half a square kilometer, and is designed to provide pedestrians with safe, comfortable shopping. Never mind where you start from, you will easily find your way back. In the Metalli Center, situated between the railway station and the Baarerstrasse (across from the Park Hotel), you will find a great variety of shops and restaurants. Strolling through the old town ("Altstadt") from the main railway station to the Casino along the lake, you will find fashion shops, elegant boutiques, jewelers, banks, confectioners and many sidewalk cafés with outdoor terraces in the summer. This historic part of Zug is traffic free, and consequently a real paradise for pedestrians.

General opening hours for larger stores are as follows:

Monday to Wednesday 8:30 am to 7:00 pm
Thursday 8:30 am to 9:00 pm
Friday 8:30 am to 7:00 pm
Saturday 8:30 am to 5:00 pm

There are no 24-hour stores in Zug. All shops are closed on Sundays and official Swiss public holidays. As an exeption, some shops at the main train station in Zug, Lucerne and Zurich are open 364 days a year.


Bills
When you receive a bill, it is usually accompanied by an orange, blue or pink slip for payment through a bank or post account. If the payment slip is not included, blank ones are available at the post office. As checks are not used anymore, people make payments through postal transfers or their bank.


Media
Newspapers published in the region are the "Zuger Zeitung" and the "Zuger Presse" which cover local events. The "Amtsblatt des Kantons Zug", published on Fridays, contains information on cantonal events including church services. It has also a large jobs section, a section on accommodation for sale and rent, and a section for second-hand items including cars. The "Swiss News" is a monthly English-language newspaper. You'll find a large variety of magazines and international newspapers at the kiosks and railway station newsstands. In addition to various national radio and TV stations there are many local stations. Cable TV offers a variety of 50 to 60 channels in different languages and it is also possible to receive television via satellite.

Find a complete list of available radio and TV programmes at www.wwz.ch


Tipping
As a rule, all prices in restaurants, bars, taxis as well as for other services are service-included; however, if the service is good, then it is customary to give a modest tip.


Waste Please use "Zuger Gemeinden"
For your daily waste you have to use a special rubbish bag in the canton of Zug, the "Zuger Gemeinden". The purchase price of these bags includes a charge that covers the waste disposal costs. It is an offence to use any other than official garbage bags. Glass, tins, aluminium tins as well as textiles /shoes can be disposed of at the garbage collecting points. Newspapers and cardboard, tied in bundles, are collected at the roadside on designated days.

Zuger Ökihof (Garbage collecting point)
Äussere Güterstrasse 10
6300 Zug

Opening hours:
Monday to Thursday 9:00 am to 11:30 am and 1:00 pm to 4.30 pm
Friday 9:00 am to 11:30 am and 1:00 pm to 6:30 pm
Saturday 8:00 am to 1:00 pm


Public Holidays
New Year (1st January), 2nd January (Berchtoldstag), Good Friday, Ascension Day, Whit Monday, Corpus Christi, 1st August (Swiss National Day), 15th August (Assumption), 1st November (All Saints), 8th December (Immaculate Conception), 25th December (Christmas) and 26th December (Boxing Day). These days are public holidays, even if they are on a weekday and most shops are closed.


Speed limits, alcohol limit
Standard speed limits are 50 kph in built-up areas, 80kph on country roads and 120 kph on motorways. A special speed limit of 30 kph is being introduced in an increasing number of residential districts. The alcohol limit for drivers is 0.5 o/oo.


Swiss currency
The ISO code for the Swiss Franc is CHF, but other abbreviations such as Fr. or SFr. are commonly used. The Swiss currency is divided into Francs (in German: Franken) and Centimes (Rappen). One 1 Franc equals 100 centimes. Banknotes are issued for CHF 10, 20, 50, 100, 200, and 1,000, and coins are used for 1, 2, 5 Francs as well as 5, 10, 20, and 50 centimes.


Writing amounts /dates correctly
To avoid misunderstandings when writing payment orders, note that monetary amounts are written somewhat differently in Switzerland than in English-speaking areas. For example, one writes CHF 19.80 for nineteen francs and eighty centimes, and CHF 19'800.- for nineteen thousand eight hundred francs.
When writing the date, make sure to use the order day, month, year: DD/MM/YY. To avoid continual confusion with expressions like 5/6/05, you write out the month in full: 5. June, 2005


Service numbers

| | |
| --- | --- |
| Inquiries for Switzerland | 111 |
| Inquiries for Austria | 1151 |
| Inquiries for Germany | 1152 |
| Inquiries for France | 1153 |
| Inquiries for Italy | 1154 |
| Inquiries for other countries | 1159 |
| International operator | 1141 |
| National operator for cellular phones | 1144 |
| Automated wake up call | 090077 |
| The talking clock | 161 |
| Weather | 162 |
| Avalanche report | 187 |
| Road conditions and traffic news | 163 |
| Sport results, lottery results | 164 |
| Telephone fault repair assistance | 175 |
| Local information | 1600 |

Additional numbers are listed in your phone book.